MACHINERY INSURANCE –

CONSTRUCTION & MINING
The Machinery Insurance for Construction, Exploration, and Mining operation is very different from other lines of Insurance.
There are many specialized machinery, equipment, and vehicles used in the Constructions and Mining industry due to variation in Project sizes according to their type & Budget.  
Construction of huge Dams, bridges, buildings, and Mining/Exploration operations require expertise in handling these types of heavy types of machinery.  
Mining operations can be classified into five major categories in terms of their respective resources. 
A. Oil and Gas extraction
B. Coal mining
C. Metal Ore mining
D. Nonmetallic Mineral Mining and Quarrying, and 
E. Mining support activities
Mining can happen at the surface or underground. Both surface and underground mining have three main steps:
Extraction:

This involves drilling, blasting, or digging to remove materials from the mine site.

Material handling:

This includes sorting and loading materials to either go to a waste area or the processing site.

Material processing

: The final step involves grinding, separating, crushing, refining, and smelting mined ore or other goods at an off-site plant to turn them into finished products.
Many heavy machineries and equipment are used to perform various functions in the Construction and Mining industry.
The use of equipment again depends on the nature and type of operation to be carried out.
These machinery and equipment are commonly known as 'Heavy Earth Moving Machinery (HEMM)'.
HEMM TYPES
Different types of heavy equipment commonly used in the construction or mining operations as below:
1. Excavators
Excavators are important and widely used equipment in the construction industry. Their general purpose is excavation, but they are also used for many purposes like heavy lifting, demolition, river dredging, cutting of trees, etc.
2.Backhoe

Backhoe is another widely used equipment which is suitable for multiple purposes. The name itself tells that the hoe arrangement is provided on the backside of the vehicle while the loading bucket is provided in the front.
3.

Dragline Excavator

A Dragline excavator is another heavy equipment used in construction that is generally used for larger depth excavations. 
4.

Bulldozers

Bulldozers are another type of soil excavating equipment that is used to remove the topsoil layer up to a particular depth. The removal of soil is done by the sharp-edged wide metal plate provided at its front. 
5. Graders

Graders also called motor graders are another type of equipment used in construction especially for the construction of roads. It is mainly used to level the soil surface.
6.

Wheel Tractor Scraper

Wheel Tractor Scrapers are earth-moving equipment used to provide flatten soil surface through scrapping. The front part contains a wheeled tractor vehicle and the rear part contain a scrapping arrangement such as a horizontal front blade, conveyor belt, and soil collecting hopper. 
7.

Trenchers

Trenchers or Trenching machines are used to excavate trenches in the soil. These trenches are generally used for pipeline laying, cable laying, drainage purposes, etc. Trenching machines are available in two types namely chain trenchers and wheeled trenchers. Chain trenchers contain a fixed long arm around which digging chain is provided. Wheeled trenchers contain a metal wheel with digging teeth around them. 
8. Loaders

Loaders are used in construction sites to load the material onto dumpers, trucks, etc. The materials may be excavated soil, demolition waste, raw materials, etc. A loader contains a large-sized bucket at its front with a shorter moving arm. The loader may be either tracked or wheeled. Wheeled loaders are widely used in sites while tracked or crawled loaders are used in sites where wheeled vehicles cannot reach.
9. Tower Cranes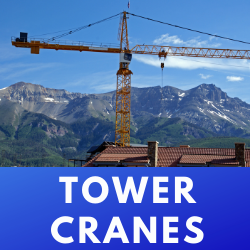 Tower cranes are fixed cranes that are used for hoisting purposes in the construction of tall structures. Heavy materials like pre-stressed concrete blocks, steel trusses, frames, etc. can be easily lifted to the required height using this type of equipment. 
10.

Pavers

Paver or Asphalt paver is pavement laying equipment that is used in road construction. Paver contains a feeding bucket in which asphalt is continuously loaded by the dump truck and the paver distributes the asphalt evenly on the road surface with slight compaction. However, a roller is required after laying the asphalt layer for perfect compaction.
11. Compactors

Compactors or Rollers are used to compact the material or earth surface. Different types of compactors are available for different compacting purposes. 
12. Telehandlers

Telehandlers are hoisting equipment, which is used in construction to lift heavy materials up to the required height or to provide a construction platform for workers at greater heights etc. It contains a long telescopic boom that can be raised or lowered or forwarded. 
13. Feller Bunchers

Feller buncher is tree-cutting heavy equipment used to remove large trees in the construction field. They cut the trees and grab them without felling, likewise gathers all the cut-down trees at one place which makes the job easier for loaders and dump trucks.
14. Dump Trucks
Dump trucks are used in construction sites to carry the material in larger quantities from one site to another site or to the dump yard. 
15.Pile Boring Machine
Pile boring equipment is used to make boreholes in the construction site to install precast piles.
16. Pile Driving Machine

This equipment lifts the pile and holds it in the proper position and drives it into the ground up to the required depth. Different types of pile driving equipment are available namely, piling rigs, piling hammers, hammer guides, etc. in any case the pile is driven into the ground by hammering the pile top which is done hydraulically or by dropping.
These HEMM are completely different from other industrial machines regarding their complexities, size, operating conditions, and risks associated with them.
Therefore, the underwriting and claim settlement process is also different in comparison to other lines of Insurance.
APPLICABLE INSURANCE POLICIES 
The insurance rating of this HEMM Industry is as per 'Engineering policies' guidelines along with 'India Motor Tariff policies' and 'Marine Policies'.   
The major policies are 
Contractor Plant & Machinery (CPM) Policy

Motor Policy (Miscellaneous Vehicle- class D) Policy 

Marine Policy (as per requirement)
MEANING OF CPM POLICY
'CPM Policy' is mainly designed to protect the interest of civil contractors owning Contractor's Plant & Machinery Policy to ensure that their equipment is well covered against the damage or destruction related to various civil engineering projects. read more on IRDA website.
COVERAGE UNDER CPM POLICY
MAJOR RISKS
Fire, Riot, strike & allied perils including flood, cyclone, landslide, etc.

Burglary & theft

Accidental damage while at work due to fault, manhandling dropping or falling. Collapse, collision, and Impact damage
EXCLUSIONS
As per standard CPM policy
SUM INSURED
Sum Insured represents the cost of replacing the insured property of the same kind and same capacity, including transportation cost, custom dues, and all installation costs.
Adjustment of sum Insured
The Insurers shall waive the right to apply under underinsurance, provided the sum insured at the beginning of the insurance was correctly fixed and the premium, as well as the sums insured, are adapted at each renewal date (annually) to the changes in machinery production prices and the cost of labour(IMIA).
ADD ON COVERS
Apart from the basic cover, some available add on the cover under this policy are 
STFI(storm, typhoon, flood & Inundation)

Earthquake (as per different zones)

Terrorism

Third-party Liability cover

Owners surrounding property

Clearance & Removal of Debris

Plant, machinery, equipment mounted on Floating vessel or craft

Midterm increase in Sum insured

Additional Custom Duty 

Air Freight

Express Freight

Dismantling

Transit Risk
In case, if HEMM shifted from one project site to another project site through self-movement or driven by Road. In such a case, the transit risks can be cover by arranging a separate Marine policy with ITC- B cover before the start of transit. 
RATING/UNDERWRITING CONSIDERATION
All Construction Plant/Equipment/Machinery are classified into 05 groups for rating purposes under CPM policy.
Group-I
–Rating would be tariff rate 0.60% + add on cover rate 
Some examples are Chain/Pulley blocks, Concrete pumping plant, Cranes(up to 10 tonnes capacity except Turner and Derrick cranes), Forklift trucks(up to 10 tonnes capacity), Road rollers, Rendering Plants, Concrete vibrators, etc. 
Group-II
– Rating would be tariff rate 0.80% + add on cover rate 
Some examples are Gas power generating plant, Hauling equipment (dumpers, dump cars), Mobile mixing plant, Site-power generating plant(gasoline or diesel engines), Tractors/Trailers, etc. 
Group-III
– Rating would be tariff rate 1.00% + add on cover rate 
Examples are Bulldozers, Cranes(above 10 tonnes capacity, Turner and Derrick cranesExcavators (Caterpillar shovels, drag shovels, power shovels, self-propelled excavators, bucket excavators), Loaders, hydraulic twin-boom jumbo drilling machine, etc. 
Group-IV
– Rating would be tariff rate 2.00% + add on cover rate 
Drilling Machine for water Supply
Group-V
– Rating would be tariff rate 0.20% + add on cover rate 
Tunnel Boring machines, other miscellaneous items with an individual value up to INR 10,000.
HEMM INSURANCE – LOCATION BASIS
For Machinery, and

For Vehicles
If confined to one location or use in Insured single premise only
If HEMM is used in a single location only, in such a case, these can be cover through CPM policy. 
If used at multiple locations but Insured premise only
In such a case, the CPM policy can be issued on an 'Anywhere in India' basis as per the requirement of Insured. Please note that there will be a 10% additional loading based on the CPM rate in the case of floater risk. 
CLAIM SETTLEMENT
In case of repairable Damage- The Insurer will pay
Necessarily incurred expense to restore damage to its pre-loss condition, plus

Dismantling cost

Re-erection cost, and 

Ordinary freight to and from the repair shop

Custom dues, if any
In case of Insured own Workshop- Insurer will pay
Cost of part/material

Wages incurred for such repair, and 

Reasonable percentage to cover other overhead charges
In case of non-repairable or Total loss Damage- The Insurer will pay
Actual value of the item at the time of pre-loss condition, including 

cost of ordinary freight

erection cost, and 

custom dues, if any
Apart from the above, any other extra charges like overtime, night work, work on public holidays, etc., will be payable if additional insured in writing by the Insurer.
EXCESS CLAUSE
Applicable policy excess for AOG and non-AOG perils differently. 
Policy excess under CPM is applicable on a total Sum insured(SI) basis, which is also an individual value of the equipment. 
e.g. if an individual value of any equipment is over INR 50 Lacs. In such case 
For AOG perils- 1% of SI subject to a minimum of INR 50,000/-
For non-AOG perils- 1% of SI subject to a minimum of INR 50,000/-
HEMM LOCATION SHIFTING 
As the use of HEMM at multiple Insured project sites, HEMM has to move or shift from one location to another location.
In such a scenario, all HEMM along with non-registered vehicles under Motor Trade. These vehicles can shift by using another vehicle, i.e. through a trailer or container, whatever the case may be. For such a case, a separate Marine policy is advisable to be insured to cover transit risks.  
But for a vehicle like Bulldozers or Dump trucks which are well registered under Indian Motor tariff as Miscellaneous class-D vehicles. If they are required to be shifted through Road by self-driven, in such case, it is always advisable to cover through separate vehicle policy as per India Motor Tariff. 
Such separate vehicle policy will protect against risk(s) of  
– Own Damage(OD) cover      
– Third-party (TP) cover
– Overturning of vehicle
– Coverage for lamps, tubes, tyres, and bumpers is by IMT-23
The applicable motor tariff will charge rate as per below zone classification under Motor tariff 
Zone A- Chennai, Kolkata, Mumbai, New Delhi. 
Zone B- All other State Capitals
 Zone C- Rest of India
The above conditions, guidelines are for indicative purposes only. Each Insurer has its detailed policy guidelines or loading/discounting patterns. So always advisable to contact the concerned Insurer for more detail on this.